I've just read (ok, now it's over 3 months ago) that Google Public DNS now supports DNSSEC (source).
I was curious what I currently use on my Linux Mint 14 machine. The relevant file is /etc/resolv.conf:
nameserver 127.0.1.1

# OpenDNS Fallback (configured by Linux Mint in /etc/resolvconf/resolv.conf.d/tail).
nameserver 208.67.222.222
nameserver 208.67.220.220

namebench
A programm called namebench checks how fast several DNS configurations would be for you.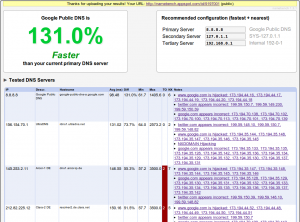 Further reading
---