Phở is a vietnamese beef noodle soup.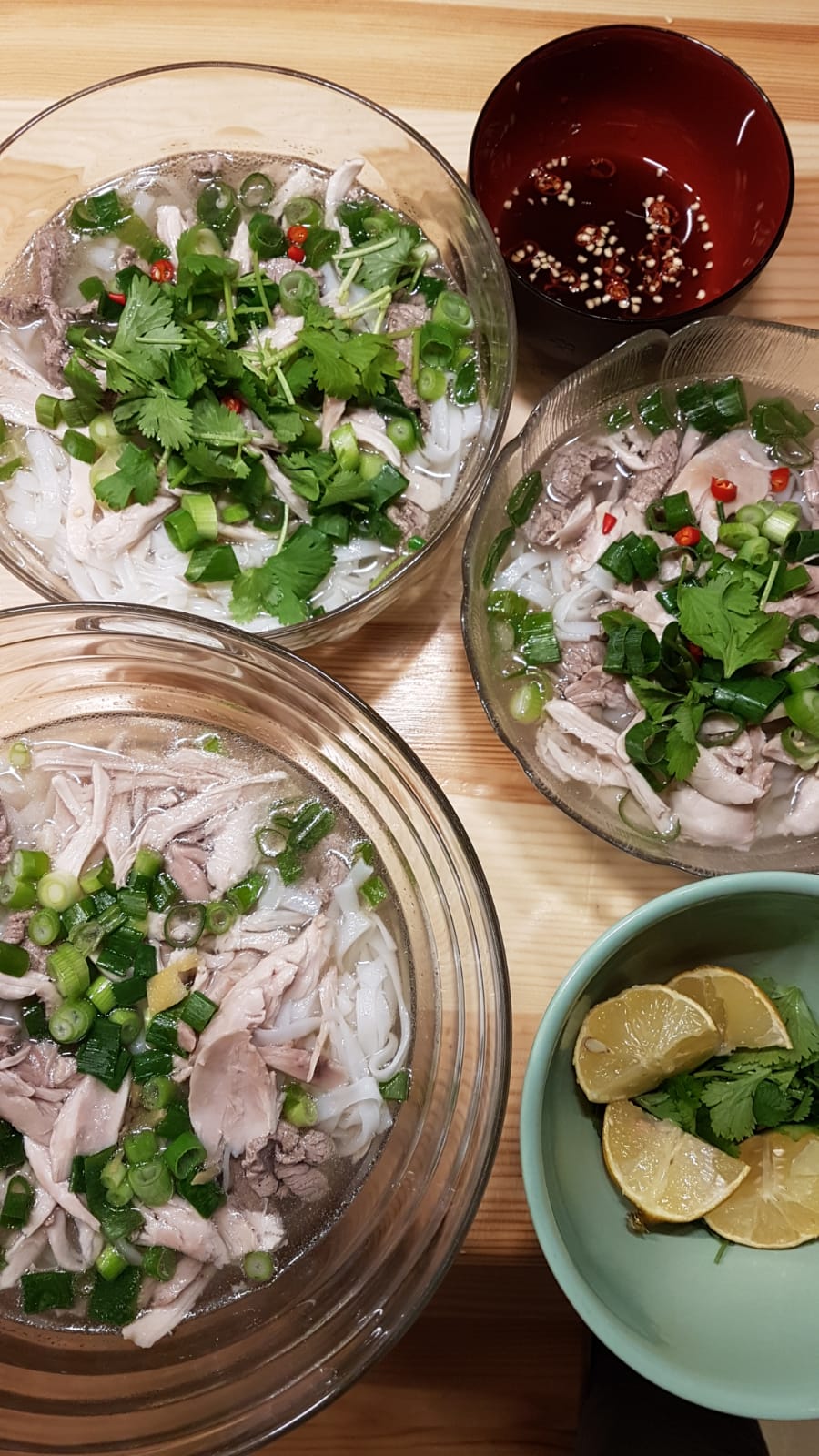 Ingredients
For 3 people, you need:
300g beef eye fillet (de: Rinderfillet)
500g chicken legs (3 pieces)
500g rice noodles
3 red onions
Sprigs of fresh mint and/or Asian/Thai basil
3-5 star anise
25g ginger
4 red hot Chili peppers
1 lemon
1 cinnamon stick
Hoisin sauce (e.g. Lee Kum Kee brand)
Fish sauce
Sugar
Salt
4L water
For each person a rather big bowl
Tools
A pot which can contain roughly 4L
A sieve
A small "sauce plate" (bowl) for sauce (less than 100ml)
Preparation
For all of the following, you will need roughly 1h.
Rice noodles:
Put the rice noodles for 15min in warm water.
Sieve the noodles out of the water and shock the noodles
Let the noodles dry
Pour boiling water over the noodles
Let the noodles dry
Beef: Remove muscle fibers and cut it in approximately 3mm thin slices.
Broth:
Peel the red onions - do not cut them, though!
Put 4L of water in the pot, heat it until it is slightly cooking
Put the chicken, 3 spring onions, the red onions, 2 chili peppers, the cinnamon stick, half a spoon of sugar and a bit of salt in the water. The chicken should be covered with water.
Let it cook for 30min
Preparations:
Cut 5 of the 8 spring onions into small cylinders (roughly 5mm high)
Remove the chicken from the broth, remove the skin, cut it into editable pieces
Put the beef briefly in the bowl. You should see how the color of the beef changes from red to gray.
Put a bit of fish sauce in the sauce plate and mix it with one chili pepper
Serve (for each person):
Put some noodles in a bowl
Pour broth over it
Sprinkle some of the cutted spring onions over the noodles
Put some lemon over the meal
Put beef / chicken over the meal
Decorate with the mint/basil
People can then put additional fish sauce in their bowl as they like it
---