Sankey diagrams can be used to visualize the breakdown of money / electriciy. You have a big base value like the energy used by an average single German in December 2017. Then you build big clusters:
Transportation
Household
Other
and you might be able to split household up again:
Heating
Refrigerator
Computer(s)
Other
The online tool [sankeymatic.comhttp://sankeymatic.com/build/) can build quite nice Sankey diagrams with a simple interface.
Example
A typical workday in Munich:
Study [9] Day
Sleep [8] Day
Commuting [0.4] Day
Breakfast/Dinner/Lunch [1.0] Day
Buying food [0.3] Day
Shower [0.3] Day
TV [0.3] Day
Communication [1] Day
Housekeeping [0.5] Day
Projects [2.5] Day
Day [9] Work
Day [8] Sleep
Day [1.8] Commuting
Day [1] Breakfast/Dinner
Day [0.5] Buying food
Day [0.3] Shower
Day [1] TV
Day [1] Communication
Day [0.5] Housekeeping
Day [0.9] Projects

gives
and
Day [9.5] Study
Study [6] Lectures
Study [1] Self-study
Study [1] Group-study
Study [1] Projects
Study [0.5] Communication
Day [7.5] Sleep
Day [0.4] Commuting
Day [1.0] Breakfast/Dinner/Lunch
Day [0.3] Buying food
Day [0.3] Shower
Day [0.5] TV
Day [1] Sports
Day [0.5] Communication
Day [0.5] Housekeeping
Day [2.5] Projects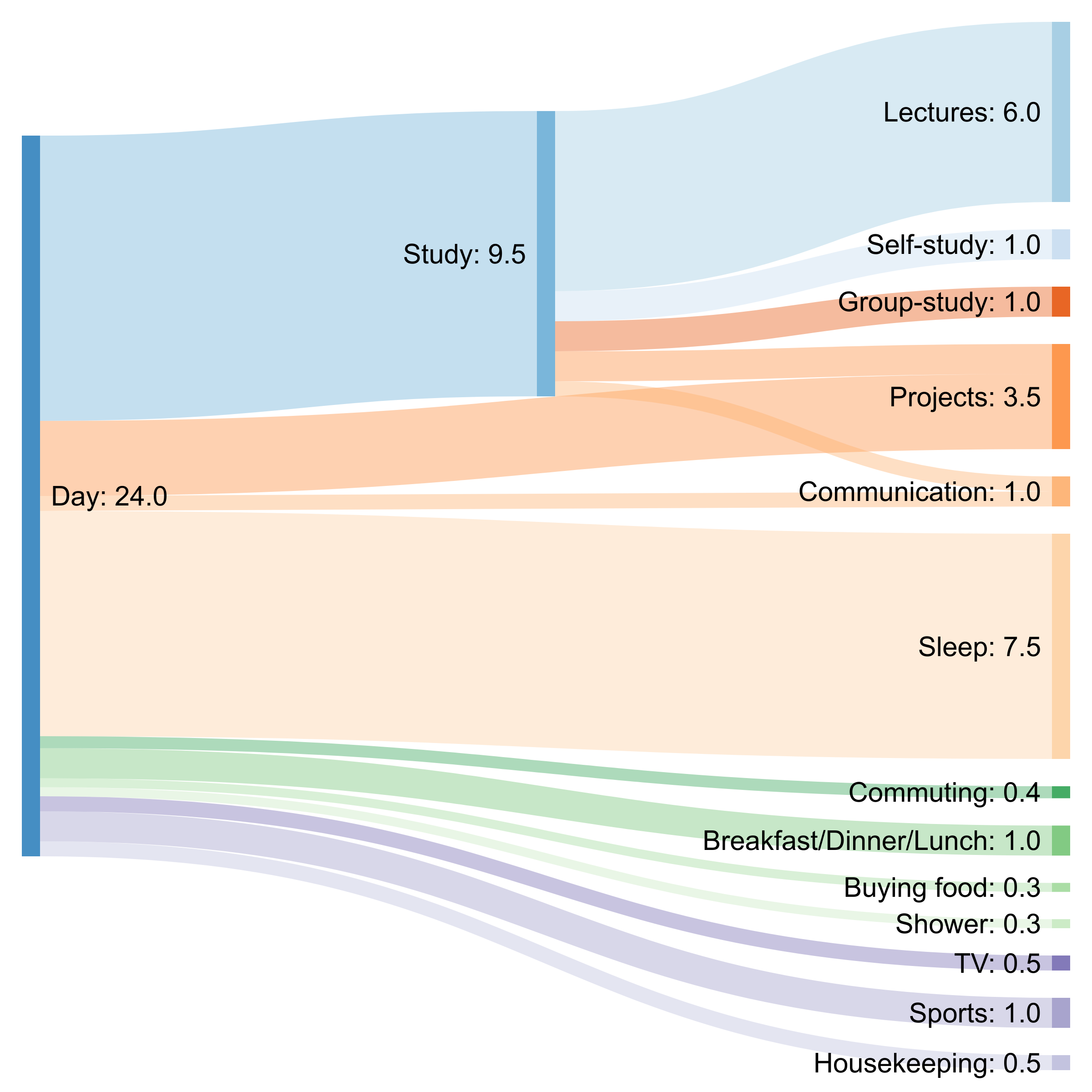 ---