Some of the biggest sites in the internet are currently calling US citizens up to protest. SOPA - the Stop Online Piracy Act - is endangering some key aspects of the internet.
I am a little bit disappointed that Google had no special doodle today and twitter had no message at all ☹ Well, at least did Google offer some information.
Here is a neat explanation of SOPA:
Wikipedia
Completely blacked out: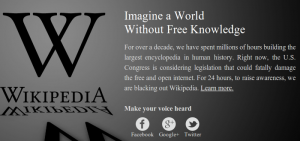 Twitter: #WikipediaBlackout
By the way, if you disable JavaScript you can view Wikipedia as always.
German Wiki

The Oatmeal
The Oatmeal has also completely blacked out its website: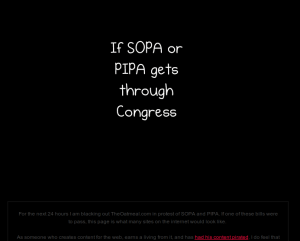 Zachstronaut
zachstronaut.com offers an interactive one: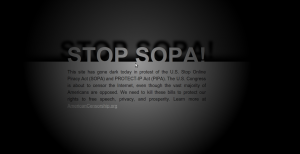 Boing Boing
Boing Boing is completely blacked out: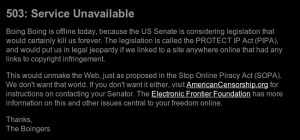 Tucows
Tucows - a site with $80.939 million USD revenue - offers some information and a link on the top. They normally offer shareware and freeware: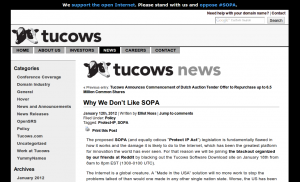 Notes
Many big companies (AOL, eBay, Facebook, Google, LinkedIn, mozilla, twitter, Yahoo, zynga) wrote a letter to the Committee on the Judiciary.
Participate
If you want to participate, take a look at SOPAstrike.com, americancensorship.org or #striketools.
Additional
---